Yoga for Neck, Shoulders & Back (All Levels)
This class is taught by: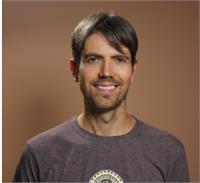 Gabriel Lazriel, RYT-200, being a Hoosier now for a couple
decades, began taking yoga classes in 2002 after a very serious automobile accident that left him with severe back & neck pain. He learned that yoga was not only a means to heal himself but also a path of empowerment to gain control over his life.
Lazriel studied yoga with the Art of Living & Sri Sri Ravi Shankar, getting involved with the organization's Hurricane Katrina humanitarian projects to help with the devastation. As well as learning to teach trauma relief to hurricane victims he also studied laughter yoga, developed by Dr. Kataria with Laughter Yoga International, while living in New Orleans.
He later studied yoga & yoga therapy at the Amrit Yoga Institute where he deepened his understanding of the "Integrative Amrit Methods or I AM" practices pioneered by Yogi Amrit Desai in the 60's. These slow & controlled yet powerful practices are
more meditative & gentle forms of mindfulness.

Combined with his magnetic charisma, energetic personality and creative improvisation, Lazriel loves
to merge the healing power of yogic techniques with modern day understandings to bring a practical "real world" approach to yoga.
His favorite pose is the warrior series, as it reminds us that Yoga is a symbol of health, vitality and centered strength in these modern fast paced times.

Lazriel is a certified RYT-200 Yoga teacher in the Integrative Amrit Method, as well as certified in The Amrit Method of body psychology (Yoga Therapy), trauma relief teacher, certified Laughter Yoga teacher, Kirtan/Musical artist & Reiki Master.
A practice to stretch and lengthen the muscles in the upper body.
Upcoming classes:
Tue

Aug 21 12:00 pm - 1:00 pm

with

Gabriel

Lazriel




Sign Up

Tue

Aug 21 5:45 pm - 6:45 pm

with

Gabriel

Lazriel




Sign Up

Tue

Aug 28 12:00 pm - 1:00 pm

with

Gabriel

Lazriel




Sign Up

Tue

Aug 28 5:45 pm - 6:45 pm

with

Gabriel

Lazriel




Tue

Sep 04 12:00 pm - 1:00 pm

with

Gabriel

Lazriel




Tue

Sep 04 5:45 pm - 6:45 pm

with

Gabriel

Lazriel




Tue

Sep 11 12:00 pm - 1:00 pm

with

Gabriel

Lazriel




Tue

Sep 11 5:45 pm - 6:45 pm

with

Gabriel

Lazriel




Tue

Sep 18 12:00 pm - 1:00 pm

with

Gabriel

Lazriel




Tue

Sep 18 5:45 pm - 6:45 pm

with

Gabriel

Lazriel




Tue

Sep 25 12:00 pm - 1:00 pm

with

Gabriel

Lazriel




Tue

Sep 25 5:45 pm - 6:45 pm

with

Gabriel

Lazriel




Tue

Oct 02 12:00 pm - 1:00 pm

with

Gabriel

Lazriel




Tue

Oct 02 5:45 pm - 6:45 pm

with

Gabriel

Lazriel




Tue

Oct 09 12:00 pm - 1:00 pm

with

Gabriel

Lazriel




Tue

Oct 09 5:45 pm - 6:45 pm

with

Gabriel

Lazriel




Tue

Oct 16 12:00 pm - 1:00 pm

with

Gabriel

Lazriel




Tue

Oct 16 5:45 pm - 6:45 pm

with

Gabriel

Lazriel




Tue

Oct 23 12:00 pm - 1:00 pm

with

Gabriel

Lazriel




Tue

Oct 23 5:45 pm - 6:45 pm

with

Gabriel

Lazriel