Yoga for Neck, Shoulders & Back (All Levels)
This class is taught by: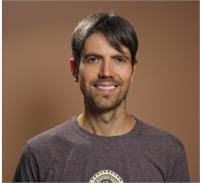 Gabriel Lazriel, RYT-200, being a Hoosier now for a couple
decades, began taking yoga classes in 2002 after a very serious automobile accident that left him with severe back & neck pain. He learned that yoga was not only a means to heal himself but also a path of empowerment to gain control over his life.
Lazriel studied yoga with the Art of Living & Sri Sri Ravi Shankar, getting involved with the organization's Hurricane Katrina humanitarian projects to help with the devastation. As well as learning to teach trauma relief to hurricane victims he also studied laughter yoga, developed by Dr. Kataria with Laughter Yoga International, while living in New Orleans.
He later studied yoga & yoga therapy at the Amrit Yoga Institute where he deepened his understanding of the "Integrative Amrit Methods or I AM" practices pioneered by Yogi Amrit Desai in the 60's. These slow & controlled yet powerful practices are
more meditative & gentle forms of mindfulness.

Combined with his magnetic charisma, energetic personality and creative improvisation, Lazriel loves
to merge the healing power of yogic techniques with modern day understandings to bring a practical "real world" approach to yoga.
His favorite pose is the warrior series, as it reminds us that Yoga is a symbol of health, vitality and centered strength in these modern fast paced times.

Lazriel is a certified RYT-200 Yoga teacher in the Integrative Amrit Method, as well as certified in The Amrit Method of body psychology (Yoga Therapy), trauma relief teacher, certified Laughter Yoga teacher, Kirtan/Musical artist & Reiki Master.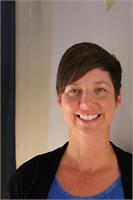 Marci was first introduced to yoga by a friend. She was a single mom with 2 young children and a full time job with a lot of responsibilities. Yoga become a nourishing sanctuary for her. She was typically a frazzled mess when she showed up at yoga class and in that hour was transformed into a blissful state that made her a better mother, employee, colleague, and friend.
She grew up in Terre Haute, Indiana and moved to Bloomington in 2004, calling this beautiful community home ever since.
Marci is RYT-200 certified through CITYOGA School of Yoga and Health, Indianapolis. She teaches Hatha and Hatha Flow. She likes that the simple structure of these classes helps make it accessible to a range of people. Beginners and advanced alike will benefit and enjoy these classes.
To anyone walking into her class for the first time, Marci would want to say "Welcome! I'm so glad you're here. Don't be worried; yoga is for EVERYONE and I can't wait to share its benefits with you"
Her favorite pose changes over time but is currently pigeon because she has experienced hip injuries and it's one of the tools she's using to heal.
When asked what season she would be, Marci replied Spring. She loves the rebirth and renewal that happens in the springtime. Yoga practice represents the same to me!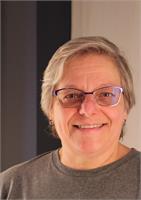 Yoga Instructor:
Click on name to see list of classes.
The stress of college guided Debbie to her first yoga class in the early 1980's. She found the relief and peace that she was seeking in yoga class, then and now. Deciding to certify after about 20 years of practicing yoga, she certified with Judith Lasater in 2003 at Yellow Springs, Ohio. Originally from Toto, Indiana, Deb continues to make her place among the Indiana yoga community.
Deb practices Gentle Hatha Yoga because she finds Hatha Yoga to be gentle and kind to the body, while increasing flexibility and strength. Her favorite pose in her practice is down dog. It takes her out of her normal positioning and requires her to be mindful of her entire body's placement.
One thing that she would want to say to a student walking into her class for the first time is "please hear my words, but listen to your bodies."
If Deb was a season, she would be autumn. She loves the settling, cooling and observing all the exciting colors.
A practice to stretch and lengthen the muscles in the upper body.
Upcoming classes:
Sign Up

Tue

Oct 23 12:00 pm - 1:00 pm

with

Gabriel

Lazriel




Sign Up

Tue

Oct 23 5:45 pm - 6:45 pm

with

Gabriel

Lazriel




Sign Up

Tue

Oct 30 12:00 pm - 1:00 pm

with

Marci

Becker




Sign Up

Tue

Oct 30 5:45 pm - 6:45 pm

with

Deb

Hackman




Tue

Nov 06 12:00 pm - 1:00 pm

with

Gabriel

Lazriel




Tue

Nov 06 5:45 pm - 6:45 pm

with

Gabriel

Lazriel




Tue

Nov 13 12:00 pm - 1:00 pm

with

Gabriel

Lazriel




Tue

Nov 13 5:45 pm - 6:45 pm

with

Gabriel

Lazriel




Tue

Nov 20 12:00 pm - 1:00 pm

with

Gabriel

Lazriel




Tue

Nov 20 5:45 pm - 6:45 pm

with

Gabriel

Lazriel




Tue

Nov 27 12:00 pm - 1:00 pm

with

Gabriel

Lazriel




Tue

Nov 27 5:45 pm - 6:45 pm

with

Gabriel

Lazriel




Tue

Dec 04 12:00 pm - 1:00 pm

with

Gabriel

Lazriel




Tue

Dec 04 5:45 pm - 6:45 pm

with

Gabriel

Lazriel




Tue

Dec 11 12:00 pm - 1:00 pm

with

Gabriel

Lazriel




Tue

Dec 11 5:45 pm - 6:45 pm

with

Gabriel

Lazriel




Tue

Dec 18 12:00 pm - 1:00 pm

with

Gabriel

Lazriel




Tue

Dec 18 5:45 pm - 6:45 pm

with

Gabriel

Lazriel




Tue

Dec 25 12:00 pm - 1:00 pm

with

Gabriel

Lazriel




Tue

Dec 25 5:45 pm - 6:45 pm

with

Gabriel

Lazriel