Hot Stone Restorative Yoga Mini-Retreat
This class is taught by: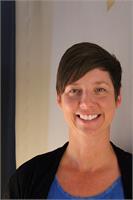 Marci was first introduced to yoga by a friend. She was a single mom with 2 young children and a full time job with a lot of responsibilities. Yoga become a nourishing sanctuary for her. She was typically a frazzled mess when she showed up at yoga class and in that hour was transformed into a blissful state that made her a better mother, employee, colleague, and friend.
She grew up in Terre Haute, Indiana and moved to Bloomington in 2004, calling this beautiful community home ever since.
Marci is RYT-200 certified through CITYOGA School of Yoga and Health, Indianapolis. She teaches Hatha and Hatha Flow. She likes that the simple structure of these classes helps make it accessible to a range of people. Beginners and advanced alike will benefit and enjoy these classes.
To anyone walking into her class for the first time, Marci would want to say "Welcome! I'm so glad you're here. Don't be worried; yoga is for EVERYONE and I can't wait to share its benefits with you"
Her favorite pose changes over time but is currently pigeon because she has experienced hip injuries and it's one of the tools she's using to heal.
When asked what season she would be, Marci replied Spring. She loves the rebirth and renewal that happens in the springtime. Yoga practice represents the same to me!
Experience complete relaxation with this special 2-hour mini retreat.
Marci Becker will gently guide you through a slow sequence of restorative poses, melting away tension within your body. As you begin to deeply relax, Rachel Deneau will place hot stones along points of your body that enhance your restorative position, providing a warm, gentle heat and allowing your muscles to soften even further. Gentle massage assists in these deeply held restorative poses will further allow your body and mind to ease into a state of release and renewal.
Gentle, calming, and therapeutic, restorative yoga uses props to support the body as it eases into relaxation and balance. The addition of hot stones allows your body and mind to further give into the release, aligning chakras and relieving built up stress, emotions, and tension.
With candles and aromatherapy providing a deeply relaxing atmosphere, this mini-retreat promises to be a luxurious, relaxing, and healing experience.
Please wear comfortable loose clothing and bring any restorative props you may own (i.e. yoga bolster or yoga blanket). Stones will be placed over clothing, so thin long sleeves are preferred over t-shirts.
Space is limited and this event is popular. Pre-registration is highly encouraged.
$50/Early Bird Before October 5th
$60/person