BootyFlow @ Anytime Fitness
This class is taught by: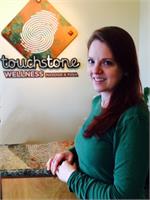 Yoga Instructor:
Click on name to see list of classes.
Nicole started integrating yoga & pilates into her fitness plan by home DVDs in high school. It wasn't until 2012 that she took it to the level of instructor guided classes. It escalated quickly after noticing physical & mental benefits. She began taking workshops to deepen her practice and ultimately completed the 200 hour Yoga Teacher Training in 2014 and became Broga Yoga licensed in 2015.
Nicole has enjoyed teaching and has a drive to bring yoga to others who wouldn't necessarily think of it as an option for cross training. She has spent the majority of her teaching hours thus far with athletes. However, is open to all classes because of Yoga's versatility. "We could fill a room with practitioners of various ages, athletic ability, and knowledge of yoga. Queue them all in the same way, and have many, many versions flowing simultaneously. That is why Yoga is beautiful to me," says Nicole.
Nicole resides on the south side of Bloomington with her husband, Pat, mini-yogi daughters, Noel & Lila. And a few… others- dogs, guineas, chickens, pigs and Donkey.
45 mins of lower extremity concentration!
Fusing traditional yoga postures with body resistance to stretch, strengthen and tone your glutes, hamstrings, quadriceps (and more). This class will increase body awareness, improve balance and posture, and condition the body.
Muscle Focus:
Abdominals
Gluteus muscle groups
Hamstrings
Quadriceps
Body focus:
Stretch
Strength
Balance
Condition