Fun Fusion Reformer Class
This class is taught by: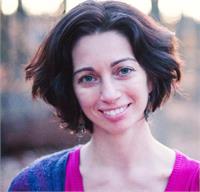 Yulia Azriel, M.S., E-RYT 500, inspired her students and clients to trust their bodies, relax deeply and connect with their healing wisdom, vitality, and joy.
With a heart full of love and a commitment to spreading the peace and happiness, Yulia has been offering her healing work in classes, workshops, retreats, and individual therapeutic sessions.
Thanks to overcoming her own personal challenges with depression, anxiety and low self-esteem, those turned into a gift that Yulia offers to others in their healing journey. Yulia's mission is to help you realize that your worth and value are not a result of your skills, achievements and successes - self-worth is your birthright.
She is certified in Integrative Amrit Method of Yoga Posture of Consciousness, Meditation in Motion, Advanced Yoga Nidra, and Yoga Therapy, Amrit Method of Body Psychology. In addition, Yulia is a certified Pilates instructor and Reiki 3 practitioner.
There is no better time than now to learn to accept yourself fully, to free yourself of pain and disconnection, self-judgments and self-rejection, and to experience the infinite healing potential arising from within you.
A class of redefining movement and stretch that will give you full body motion, strength and awareness.
Created by the owner, Paulina, you'll use techniques from
Pilates and Yoga with dance sprinkled in to shake off and let it go…
This class is to sculpt your arms and back, stabilize your lower back and lengthen
your spine with awarenes
s.
*This class has different pricing from our mat classes.
Space is limited to 3 participants to pre-registration is encouraged.
Upcoming classes: