Movement Lab (All Levels)
This class is taught by: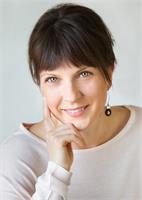 Active Release Technique (A.R.T.), Structural Energetic Therapy (SET) & Stott Pilates
Paulina has been deeply involved in the body since she was two years old. The daughter of a physiotherapist/choreographer in Nowogard, Poland, Paulina grew up dancing in the theater, where she first learned the depth of the mind-body connection, and their ability to heal each other. The joy she feels when she can steady her mind and move through curiosity, community and pain brought her to where she is today with her work and classes. She believes movement is a connection and true refuge.
This ultimately led her to a Master's degree in Dance Pedagogy for Social and Cultural Animation from the University of Zielona Gora, followed by certification as a Dance Movement Therapist from the Polish/English Institute of Dance Movement Therapy. Within a year of arriving in the United States in 2007, Paulina became certified as a Stott Pilates instructor and, a year after that, as a licensed massage therapist. Paulina's certification in Active Release Technique further expanded the menu of healing modalities she offers. Through workshops and continuing education, she constantly strives to further her understanding of a whole person.
Paulina teaches Pilates, Barre and Zenga (a combination form that includes yoga poses, Pilates core, and flow). She uses props to support or challenge, and increase understanding of biomechanics of stability, mobility, coordination, and endurance. In her work you can see the influence of Feldenkrise, Alexander Technique, and Laban Movement System. She believes in touch as a feedback and guidance.
Her favorite pose is Goddess for its sense of safety and feeling alive that is essential to some exercises in Pilates. She also loves squat movements that are so needed in everyday life.
Pilates focuses on mobility and stability in the same moment. As one articulates their spine, they also look to stabilize their scapula and find pelvis placement. There is constant connection between stability and mobility in movement.
If someone walked into her class for the first time, Paulina would want to say to them "be open minded, fearless of heart, here there is no right or wrong and it's great to be exactly where you are."
Appointments with Paulina can only be booked over the phone or in person.
There is great Joy Potential in unrestrained movement and self expression.
Touchstone Movement Lab rotates focus each week, with 4 rotations of movement cycling in led by different instructors. You may join in the fun at any time!
Read about each focus below.
MOVEMENT WITH AMY BURRELL
Exploring primal movement allows the thinking mind to disengage and makes room for a deeper connection with the inherent wisdom of the body. Movement gets us out of our heads and into our bodies present moment awareness. Join us on this exploration of free movement and its joyful potential for healing.
CIRCUS WORKSHOPS with Ann Dorwin
Step right up…!
This series of hands-on workshops will allow participants to explore a variety of ground-based circus skills in a safe, encouraging environment.
Each workshop will feature a selection of skills by category: Manipulation will include juggling scarves, balls, rings, clubs and cups, plate-spinning, devilstick and diabolo; Equilibristics will include object balancing, stilt-walking, rola-bolas and rolling globes; Acrobatics will include basic tumbling, handbalancing, partner acro and pyramids.
Circus skills are appealing to all ages, body types and physical abilities, and participants will be allowed to progress at their own pace, finding mastery through step-by-step instruction and support from a 30-year veteran circus artist, director and educator. So come one, come all and step right up for some center ring fun at the Touchstone Movement Lab!
*Families are welcome at this workshop*
"MOVEMENT MEDITATION" with Ingrid Skoog

Also known as "Authentic Movement" and "Tao of the Body", this simple, beautiful practice invites participants to listen deeply and follow their bodies' natural impulse to be move or be still freely and easily, without constraints or judgments.
Find peace, insight, and deep connection in this trust- and community-building class. All levels; No prior experience required.
CONTACT IMPROVISATION with Paulina Makowska
We will engage in exercises that encourage new ways of moving solo bodies and that develop skills for physical interaction and weight sharing.