Sacred Body Yoga (All Levels)
This class is taught by: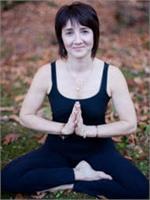 "I found a sacred home inside my own body, I found my heart and a deep love for all of life."

My spiritual and healing journey began when I started taking some of my first yoga classes in 2002. I enjoyed the stretching and strengthening, as well as being able to find some peace and relaxation. I nearly fell asleep in final relaxation, savasana, which had never happened before. So this was quite an experience. I also started meeting different healers and a spiritual mentor that blew me away. They had this sense of calm and ease, an openness, and a power that was truly inspiring. So, off I went in search of healing, heart opening, calm, empowerment, truth and to find my center.

Here I am many years later, finally able to offer the world some of the same gifts I received. I continue to grow into finding and living in this sacredness. It has not always been easy, but it has been through these challenges that that I have been able to find some of my greatest gifts, my strength, and empowerment. I have a beautiful life I have created. I have 4-year old son who amazes me, stretches me, strengthens me, empowers me and helps me grow. He's kind of like a yoga class everyday. I love being a mother. I love the art of creation. I love being with family and friends. I love teaching and sharing yoga. I love feeling like I am creating a sacred life with connection and meaning. I love helping people on their journeys to feel better in their bodies and their lives. I am so grateful at this time to be able to share my gifts with you and to be a part of your journey.
Thank you! Namaste, and Love and Light to you
This class uses easeful stretching and strengthening as well as providing mindfulness and awareness to the mind and body.
Jamie's aim is to create a safe, sacred and nurturing space for you to explore and discover new places in yourself. Her hope is that you leave feeling like you just had a massage, with more energy and vitality, as well as had time to restore the senses and feel grounded.
Jamie uses music, chanting, intention, focus and breath work to center the mind, body, and spirit.
On Wednesdays, this class begins with a 15min meditation practice. She'll explore different ways of meditation: guided, mindfulness, inquiry, contemplation, devotion, mantra, stillness, silence and presence of being. We are not limited to any forms of expression.
Meditation is a practice. You are invited to deepen and open to new ways of being, discovery, questioning, mindfulness and self study.
Bring more peace, ease and stillness to the mind, body and heart. Relieve depression and anxiety, sadness and anger, frustration and fear. Simply allowing everything to fall away.