Upcoming Courses & Workshops
Pilates at Switchyard Brewing Company

with

Paulina

Makowska
Sun, Aug 26, 2018 at 9:00 am - 10:00 am
We're taking movement out of the studio and bringing it to Switchyard Brewing Company!
Redefining movement and stretch, this fun class will give you full body motion, strength and awareness. Created by the owner of Touchstone Wellness Center, Paulina will use techniques from Stott Pilates with yoga and dance sprinkled in to help you shake off and let it go… You'll sculpt your arms and back, stabilize your lower back and lengthen your spine all with body awareness.
After class, enjoy a complimentary beverage: mimosa, beermosa or a pint of any Switchyard's house beers.
This class welcomes participants of all experience levels! We encourage you to invite a friend (or two) and experience something new in a fun environment.
Please bring a mat and wear comfortable clothing. Class will begin promptly at the listed start time. We suggest arriving at least 10min before the class start time so that you can check in and get settled in for the start of class.
$20/person
21+ Event
Pre-registration encouraged but not necessary.
Learn More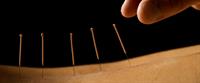 Community Style Acupuncture Day

with

Jill

Schimmelpfennig
Sat, Sep 8, 2018 at 1:30 pm - 5:30 pm
Join us for community style acupuncture to experience the benefits of balancing Qi in a group environment.
What is community style acupuncture?
You'll receive an acupuncture treatment in a common area with other patients. Typically the acupuncturist will treat about 4 people an hour, rotating among the patients. Expect to have a treatment session 40-45min long. This is a frequent form of treatment in China, so you'll be receiving a more culturally authentic treatment!
Many find this style of acupuncture more comforting, as you are never left alone in a private room with needles placed in your body. For those new to the experience, it may ease the nerves by having a community of patients around you. We even encourage you to bring a family member or friend so you can be treated together.
An additional benefit is that this style of treatment allows us to provide acupuncture at lower rates than typical private-room treatments.
What does acupuncture treat?
Common conditions that acupuncture treats are:
Depression

Anxiety

Isomnia

Muscle pain and localized injuries (strains, sprains, "tennis elbow", etc.)

Sciatica

Headaches/Migraines

Allergies and respiratory ailments

PMS

Hormone imbalances

Infertility

Disc problems

Low-back pain
To see even more visit
$40/early registration before August 31st
After you have registered, our staff will reach out to regarding scheduling your session. Patients are scheduled 15min apart. If you need a specific time period within 1:30-5:30pm, please call to register so that we can check on time availability for you.
Walk-ins are available, but we suggest calling ahead regarding the best time to come during the day.
Please plan on wearing loose-fitting clothing.
Learn More