Amy Burrell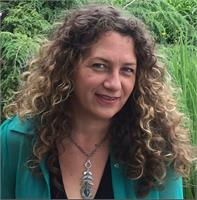 Amy has been practicing massage since 2001, her soulful work is so soothing that it hard not to drift off to sleep. She creates a total sensory experience that supports clients as they develop consciousness of their own relaxation. Her interest in deep listening and in creating an environment where clients can feel and own their own healing process. Gentle touch supports breath awareness and deep relaxation. Amy has been a dancer for many years and continues to teach and explore dance as a healing modality.
Amy is also a certified Holotropic Breathwork facilitator with Grof Transpersonal Training. She believes in the body's intelligence and its power to heal through practices that involve mindfulness, movement and breath. She's led workshops in Mount Shasta, Santa Cruz, Bloomington, and St. Louis, and traveled to trainings in Europe, South America and throughout the United States.
A multidisciplinary artists with a focus on the body, Amy holds a Masters of Fine Arts in installation art and performance, as well as a Bahelor's Degree in Ballet and Psychology. She is a a former professional modern dancer. Amy grew up in Brazil and continues to embrace cross-cultural practices in her work.
Amy Burrell is currently not instructing any classes.