Amy Burrell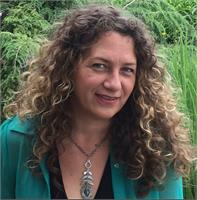 Amy has been practicing massage since 2001, her soulful work is so soothing that it hard not to drift off to sleep. She creates a total sensory experience that supports clients as they develop consciousness of their own relaxation. Her interest in deep listening and in creating an environment where clients can feel and own their own healing process. Gentle touch supports breath awareness and deep relaxation. Amy has been a dancer for many years and continues to teach and explore dance as a healing modality.
Amy is also a certified Holotropic Breathwork facilitator with Grof Transpersonal Training. She believes in the body's intelligence and its power to heal through practices that involve mindfulness, movement and breath. She's led workshops in Mount Shasta, Santa Cruz, Bloomington, and St. Louis, and traveled to trainings in Europe, South America and throughout the United States.
A multidisciplinary artists with a focus on the body, Amy holds a Masters of Fine Arts in installation art and performance, as well as a Bahelor's Degree in Ballet and Psychology. She is a a former professional modern dancer. Amy grew up in Brazil and continues to embrace cross-cultural practices in her work.
Amy Burrell instructs the following:
In this class you'll find elements and principles of Pilates, dance, and yoga. Learn choreography, exercise essence and correct biomechanics of movement while using a barre as a stability prop. We will utilize the power of music to create a safe and fun barre classes that focuses on increasing strength, flexibility, stamina and dynamic stability.

A great class for bone building, working to gain more balance in walking standing, stronger longer spine, legs and arms and good looking booty.






There is great Joy Potential in unrestrained movement and self expression.

Touchstone Movement Lab rotates focus each week, with 4 rotations of movement cycling in led by different instructors. You may join in the fun at any time!

Read about each focus below.




MOVEMENT WITH AMY BURRELL

Exploring primal movement allows the thinking mind to disengage and makes room for a deeper connection with the inherent wisdom of the body. Movement gets us out of our heads and into our bodies present moment awareness. Join us on this exploration of free movement and its joyful potential for healing.




CIRCUS WORKSHOPS with Ann Dorwin

Step right up…!

This series of hands-on workshops will allow participants to explore a variety of ground-based circus skills in a safe, encouraging environment.

Each workshop will feature a selection of skills by category: Manipulation will include juggling scarves, balls, rings, clubs and cups, plate-spinning, devilstick and diabolo; Equilibristics will include object balancing, stilt-walking, rola-bolas and rolling globes; Acrobatics will include basic tumbling, handbalancing, partner acro and pyramids.

Circus skills are appealing to all ages, body types and physical abilities, and participants will be allowed to progress at their own pace, finding mastery through step-by-step instruction and support from a 30-year veteran circus artist, director and educator. So come one, come all and step right up for some center ring fun at the Touchstone Movement Lab!

*Families are welcome at this workshop*




"MOVEMENT MEDITATION" with Ingrid Skoog

Also known as "Authentic Movement" and "Tao of the Body", this simple, beautiful practice invites participants to listen deeply and follow their bodies' natural impulse to be move or be still freely and easily, without constraints or judgments.

Find peace, insight, and deep connection in this trust- and community-building class. All levels; No prior experience required.




CONTACT IMPROVISATION with Paulina Makowska

We will engage in exercises that encourage new ways of moving solo bodies and that develop skills for physical interaction and weight sharing.