Marci Becker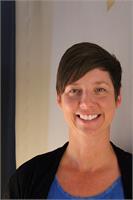 Marci was first introduced to yoga by a friend. She was a single mom with 2 young children and a full time job with a lot of responsibilities. Yoga become a nourishing sanctuary for her. She was typically a frazzled mess when she showed up at yoga class and in that hour was transformed into a blissful state that made her a better mother, employee, colleague, and friend.
She grew up in Terre Haute, Indiana and moved to Bloomington in 2004, calling this beautiful community home ever since.
Marci is RYT-200 certified through CITYOGA School of Yoga and Health, Indianapolis. She teaches Hatha and Hatha Flow. She likes that the simple structure of these classes helps make it accessible to a range of people. Beginners and advanced alike will benefit and enjoy these classes.
To anyone walking into her class for the first time, Marci would want to say "Welcome! I'm so glad you're here. Don't be worried; yoga is for EVERYONE and I can't wait to share its benefits with you"
Her favorite pose changes over time but is currently pigeon because she has experienced hip injuries and it's one of the tools she's using to heal.
When asked what season she would be, Marci replied Spring. She loves the rebirth and renewal that happens in the springtime. Yoga practice represents the same to me!
Marci Becker instructs the following:
Ha-Tha Yoga: Breath centered functional movement to stabilize and strengthen the spine, balance energy, steady the mind, and refine awareness. Open class, all levels welcome.




Ancient yogis practiced the physical postures of yoga so they could sit more easily for meditation. This class will follow that same practice, beginning with gentle movement to free the joints and bring a sense of ease to the body so you can sit for guided meditation.




The 45min class length is perfect for those looking for a quick release during their day or squeezing in wellness on their lunch break. In addition to the benefits of physical movement, scientific studies are showing meditation can help to manage blood pressure, stress, pain, anxiety, depression, insomnia, and much more.




Move into the rest of your day and week with a sense of calm and peace!