Rachel Deneau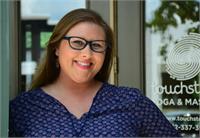 Rachel is a licensed Massage Therapist in Indiana and Kentucky. She received her Massage Therapy education from the Louisville School of Massage where she maintained her relationship and continued education as a student supervisor after graduation.
She has recently moved to Indiana for love and ongoing personal growth. Her goal in life has been to help others, through a process of obtaining a Bachelors in Psychology to a Masters in Counseling paired with over ten years of therapeutic service she has found a fit that meets her goal!
While working in a psychiatric residential treatment facility she saw the benefits and shortcomings of talk therapy/counseling. The body holds stress, memories, depression, anger etc. that the mind cannot always express.
It was during this time that she pursued Massage Therapy to better help others. She has seen Massage as an excellent way to release the tension in life, believing Massage is more than stress relief or a once-a-year treat, but rather something the body, mind, and soul need to maintain overall health and wellness.
She is trained in various techniques including Trigger Point Therapy, Swedish Massage, Prenatal, Chakra balancing, Deep Tissue and Thai Yoga Massage. Rachel can address specific issues of complaint while easing the client into a realm of relaxation. She views massage as a science and an art, having practical and indirect benefits with very minimal, if any, side effects. She strives to help others through massage to the best of her known ability while maintaining integrity, honesty and genuine intent toward the strengthening of the goodness in others. Rachel considers it an honor to do the work she does and she looks forward to working with you!
Rachel Deneau is currently not instructing any classes.