Sharon McGuire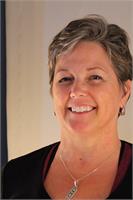 Sharon McGuire, RYT-200, completed her yoga teacher training with Nourishing Heart Yoga in Bloomington.
With an extensive background in training and development, Sharon is dedicated to facilitating opportunities for students at all levels to experience personal "ah-ha!" moments and grow in their yoga practice.
Combining gentle yoga and meditation, Sharon creates a loving, compassionate environment that encourages students to accept who they are and find inner peace.
By guiding students to move mindfully with the breath, she creates space for
students to slow down, relax, and focus on being present in the moment, ultimately providing
them with tools to live mindfully in everyday life.
Sharon McGuire instructs the following:
Learn how yoga and mindfulness can be integrated into daily life to create and maintain positive mental health without being held back by stress anxiety and depression.




Anxiety and depression, which can be experienced independently of each other or at the same time, require subtly different approaches.




Depression can express itself in different ways, and is often accompanied by anxiety. Each person responds differently to the emotional burden of depression. Students will learn fundamental principles that will help you find natural relief and support the nervous system.




Anxiety can be met at its level of tension with yoga poses and breathing techniques that help drain the body of tension and allow for deep restoration. Poses have been selected for their specific physiological and psychological benefits to re-balance and retrain the nervous system to better manage stress.




Slow Flow is a mindful, slowly paced yoga class that incorporates conscious flowing of breath with movement of body.




This class will build strength through slow, focused movements, will increase flexibility and range of motion via flowing movements and deep stretching. It includes focused and gentle opening of the body and spine, foundational yoga poses and sun salutations, attention to detail on breath and alignment, and some long holds for strength.




Keen focus, concentration, control of breath, and determination are cultivated in Slow Flow, plus a willingness to reach higher and burn brighter!




Ancient yogis practiced the physical postures of yoga so they could sit more easily for meditation. This class will follow that same practice, beginning with gentle movement to free the joints and bring a sense of ease to the body so you can sit for guided meditation.




The 45min class length is perfect for those looking for a quick release during their day or squeezing in wellness on their lunch break. In addition to the benefits of physical movement, scientific studies are showing meditation can help to manage blood pressure, stress, pain, anxiety, depression, insomnia, and much more.




Move into the rest of your day and week with a sense of calm and peace!