David LeBeau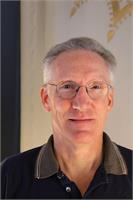 Yoga Instructor:
Click on name to see list of classes.
David learned to do yoga to help treat lower back pain. By using some stretches regularly, especially after strenuous work and long drives, he learned how to improve back health in a holistic way. He started the YogaFit Training Systems Teacher Training Program in 2007, and has been teaching senior chair yoga for over 7 years. He holds certificates in Levels One through Three, YogaFit Seniors, and Anatomy and Alignment. These certificates represent over 100 hours of training.
David prefers the vinyasa style of yoga. Although he was first introduced to the more classic style of holding poses for longer periods, he finds the flowing vinyasa style works better for seniors who generally find that moving into and out of a stretch several times is just as effective as the longer holding but easier for them to accomplish. Also, the YogaFit version of vinyasa style includes more muscle strengthening poses and exercise leading to better muscle tone in a shorter period of time.
David's preference for vinyasa style, leads him to like a flow rather than have any particular favorite pose. A flow he likes is a Downward Facing Dog to a Plank to Crocodile, back to Plank and then Downward Facing Dog using a chair for support. This flow stretches and strengthens the back while it strengthens the abdominals, legs and arms.
Growing up in Bloomington, David left for 17 years after graduating from IU. His Navy and training career took him many places in the world before his return to Bloomington with a family. His yoga training has taken place in Indianapolis, Cleveland, and Hamilton, Ohio.
If David could say something to a student walking into his class for the first time it would be to ask them to start by listening carefully to their body, and as they practice each stretch, to look for that balance point between "too easy" where there is almost no benefit, and "too hard" where their body is establishing a limit. The stretches, poses and sequences we do in chair yoga are simple so that each person can tailor the workout to their body.
When asked what season David would be, he chose fall. The color crisp days invite us to walk, cycle, hike, sail, camp and gather around a fire ring to appreciate each other.
David LeBeau instructs the following:
This class is tailored to seniors and open to anyone with mobility and flexibility challenges. Standing and chair postures are used to improve balance, strength and flexibility. Easy modifications to postures and movements make this healthy option accessible to all.